One Man's Pathway to Recovery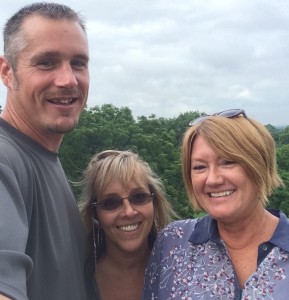 Jeremiah, Sandy Jeffers and Justin Phillips paying respects to Phillips son, Aaron of "Aaron's Law" July 4, 2016 @ Crown Hill Cemetery
Jeremiah  came from a good family in a small town.  His addiction started innocently with social drinking after high school, but shortly thereafter began a downward spiral of broken promises, dozens of arrests for public intoxication, failed treatments, unemployment, estranged family relationships and homelessness.  In his late thirties, Jeremiah surrendered to a life living under bridges, bruised and beaten recycling through emergency rooms  and jails.  Even though he had given up, he was not alone. Maurice Young a local homeless advocate known for his "Homeless by Design" Ted Talk, made it his mission to get Jeremiah off the streets and into recovery.  During Jeremiah's last relapse, his younger sister died but he was on the streets nowhere to be found.  Maurice worked with Pathway and Jeremiah's probation officer who  specialized in homeless outreach to get him into a safe environment to deliver the tragic news about his sister.  Measures had to be taken to avoid putting him at risk, which  could ultimately harm his family even more.  Finally, he ended up at Pathway's supportive housing program.
Turning around his ingrained habits and behaviors were challenging at best, but by the grace of God, Jeremiah grabbed what could very well be his last chance for recovery.  He got a 12-step sponsor, began following directions, got a job and began making restitution.  He began making "living" amends to his family, especially for not being there when his sister died.  He slowly built a brand new life.
Last November, he celebrated one year of sobriety at Pathway.  He completed the entry level program in phase one, progressed to  semi-independent living in phase two and moved to his own Pathway apartment February 1st  2017.   This will be his home as long as he is clean and sober, engaged in his support network and financially self sufficient.  A big part of Pathway's philosophy and Jeremiah's recovery is "service to others".  After his one year sobriety birthday, he began serving  as a Pathway Peer Support Volunteer.  Every Sunday he works in the office to give  guidance to the new guys coming in off the streets beginning their journey of recovery.   Today, Jeremiah is gainfully employed and giving back what was so freely given to him.  He referees football with his father for the school he attended as a child.  He has earned the trust of his family and he has a new life.